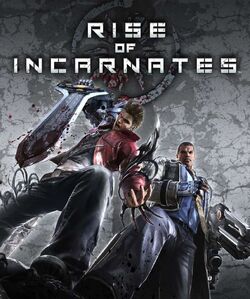 In collaboration with Marvel Comics, Bandai Namco Games is currently releasing a monthly web comic that serves as the prequel to the game's events. There will be a total of sixteen volumes.
The comic series made its debut on July 23, 2014 at San Diego Comic-Con, with the first two issues in a combined volume. Marvel Custom Solutions vice president Jonathan Rheingold said "Bandai Namco Games and Marvel working together was a no-brainer. Both companies hold to the highest standards of quality storytelling, artistic talent recruitment, and character creation, so it was a natural connection for Marvel to offer its expertise to the legendary video game developer in packaging and distributing the comic book adaptation of Rise of Incarnates."
The initial volume was available for free at approximately 2,500 comic specialty shops supporting Marvel Comics. Additionally, the comics will be accessible for free digitally through the Marvel Unlimited Comics App on iOS and Android devices, as well as on the official site.
Crew
[
]
Story: Yoshihiro Nakagawa, Marshall Lizzle and Jason Arney
Art: Hoang Nguyen, Kinsun Loh and Tomoyuki Tsuru
Cover: Takuji Kawano
Volumes
[
]